World AIDS Day
Designated on 1 December every year since 1988, is an international day dedicated to raising awareness of the AIDS pandemic caused by the spread of HIV infection and mourning those who have died of the disease.
National Pollution Control Day
National Pollution Control Day focuses on preventing pollution and raising awareness about the ways we keep exploiting mother nature. This day is observed on 2nd December every year in remembrance of the people who passed away in the Bhopal Gas Tragedy, 1984.
World Computer Literacy Day
This day was launched by NIIT, an Indian IT company, to commemorate its 20th anniversary. On this day, people spread awareness about the importance of computer literacy, especially to people from marginalized sections of society.
Feast of St. Francis Xavier
This day commemorates the dedication and service that St. Francis Xavier committed himself to through his outreach of faith and missionary work in Europe and throughout Asia
International Day of Disabled Persons
International Day of Persons with Disabilities is an international observance promoted by the United Nations since 1992. It has been observed with varying degrees of success around the planet.
Indian Navy Day
Indian Navy Day is celebrated annually on 4th December to commemorate the achievements of India's naval forces and their role in the nation. The theme for Indian Navy Day 2022 is 'Swarnim Vijay Varsh', which marks 50 years of India's triumph in the 1971 Indo-Pakistan war.
World Soil Day
World Soil Day (WSD) is held annually on 5 December as a means to focus attention on the importance of healthy soil and to advocate for the sustainable management of soil resources. An international day to celebrate soil was recommended by the International Union of Soil Sciences (IUSS) in 2002.
Indian Armed Force Flag Day
The Armed Forces Flag Day or the Flag Day of India is a day dedicated to honouring the soldiers and veterans of India's armed forces. It has been observed annually in India on December 7 since 1949
International Civil Aviation Day
In 1996 the United Nations General Assembly proclaimed that 7 December was to be the International Civil Aviation Day. The day has been celebrated by the International Civil Aviation Organization since 7 December 1994, the 50th anniversary of the signing the Convention on International Civil Aviation.
The International Day Against Corruption
International Anti-Corruption Day, to raise awareness of corruption and of the role of the Convention in combating and preventing it. The Convention entered into force in December 2005.
Human Rights Day
Human Rights Day is celebrated annually around the world on 10 December every year. The date was chosen to honour the United Nations General Assembly's adoption and proclamation, on 10 December 1948.
International Animal Rights Day
The rights of our furry friends are celebrated annually on International Animal Rights Day on December 10. The holiday is shared with Human Rights Day, as it should be, because animals have the right to be treated with respect, and acts of cruelty against them need to end just as much as for humans.
National Energy Conservation Day (India)
The day focuses on making people aware of global warming and climate change and promotes efforts towards saving energy resources.
Vijay Diwas
In India, Vijay Diwas (also called Victory Day) is celebrated every year on December 16. The country is celebrating the 51st Vijay Diwas in 2022. Vijay Diwas is observed to commemorate the service, valour, and sacrifices of the gallant men of the Indian Armed Forces' victory over Pakistan in the 1971 war. On this day, we pay homage to all the soldiers who had defended the nation in the war.
Minorities Right Day in India
Every year on 18 December, this day is observed to promote the rights of Minority communities in India. Also, the awareness creation about the Minority Rights is the objective of celebrating this day as Minorities Rights Day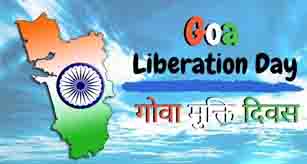 Goa's Liberation Day
Goa, Daman and Diu Liberation Day is observed on December 19 every year in Goa, India. The Goa Liberation Day is celebrated in commemoration of the Indian armed forces annexing Portuguese-ruled Goa. Also, India was completely free from European rule on this day.
National Mathematics Day
Every year, 22 December is observed as National Mathematics Day to mark the birth anniversary of Srinivasa Ramanujan, a legendary Indian mathematician. His contributions to number theory, infinite series, mathematical analysis, etc., are considered instrumental.
Farmers Day (India)
To honour and appreciate all the responsible farmers for their contributions to society, National Farmers' Day is celebrated every year on 23 December. The day is observed to commemorate the birth anniversary of Mr. Choudhary Charan Singh, India's fifth Prime Minister.
National Consumer Rights Day
Although World Consumer Day is celebrated on March 15, India observes it on December 24 because it was on December 24, 1986, that the Consumer Protection Act 1986 received the approval of the President of India and came into force.
Christmas Eve
Christmas Eve is the evening or entire day before Christmas Day, the festival commemorating the birth of Jesus. Christmas Day is observed around the world, and Christmas Eve is widely observed as a full or partial holiday in anticipation of Christmas Day.
Christmas
Christmas is an annual festival commemorating the birth of Jesus Christ, observed primarily on December 25 as a religious and cultural celebration among billions of people around the world.
Good Governance Day (India)
Good Governance Day is observed in India annually on the twenty-fifth day of December, the birth anniversary of former-Prime Minister Atal Bihari Vajpayee. Good Governance Day was established in 2014 to honor Prime Minister Vajpayee by fostering awareness among the Indian people of accountability in government
New Year Eve
In the Gregorian calendar, New Year's Eve, also known as Old Year's Day or Saint Sylvester's Day in many countries, is the evening or the entire day of the last day of the year, on 31 December. The last day of the year is commonly referred to as "New Year's Eve".